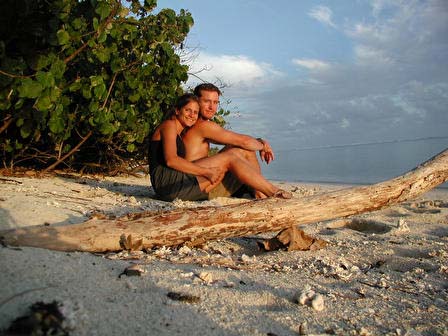 Selected Kaya and Daizy Pics that they uploaded from their travels in Rarotonga.

Kaya's first letter home:

Whew! Finally...a message out to the group. We are alive and well!
We're currently in in Auckland, New Zealand after spending 10 days in The Cook Islands (Rarotonga and Aitutaki). Our "vacation" portion of the trip is over and now we're into the "traveling" part. We live in a camper van and smell like camp fire. Good stuff.

There is much to say, but in order to spend more time on this adventure than writing about it -- here are some highlights. (Feel free to imagine quick edits and flashy music like MTV or ESPN.)

--Rarotonga was amazing! The island life suited us just fine. Days spent snorkeling, reading, sunning, riding bikes and enjoying sunsets on an island paradise.

--Rarotonga (and all the Cook Islands) are surrounded by a huge reef so, for the most part, you're in a lagoon. The water rarely got over 4 feet deep. One day we waded about a 1/2 mile to an unpopulated island and had an amazing picnic.

--We rode bikes EVERYwhere while on Rarotonga (trying to get used to riding on the left side of the road) even when it was pouring rain (our last few days left us soggy). It takes about 2-3 hours to ride completely around the island. We went on an amazing cross island hike with Pa, the dread-locked guide and herbalist. The lush hike and views were spectacular and his information on natural remedies were fascinating. (However, his 'natural mosquito repellent' that he rubbed all over Jen's arms was a native fruit that smelled distinctly of old cheese. Seriously...it was remarkably foul. It would have kept any animal away.)

--We flew to a nearby island, Aitutaki, and spent a few days in an on-the-water hut (with outdoor shower) overlooking a wonderful lagoon. We could snorkel right outside our front door and watch the sunset from our little balcony. Our minimal digs were great -- as our very groovy host said, "It's everything you need, really." We snorkeled just feet from our front door around colorful coral and dozens of brightly-colored tropical fish and starfish. Had to avoid the seemingly millions of sea cucumbers (or "sea turds" as we call them) that litter the ground, but gorgeous nonetheless (Amazingly, locals eat the sea cucumber insides and throw the 'shell' back into water. The cucumber then regenerates itself within a few weeks!) At night, the area was teeming with life and made sleeping (under a mosquito net) a bit unnerving. The geckos were quite active and random noises around our screen hut were plentiful. Ah the island life. ;) Also, there are many, MANY chickens and roosters in the Cook Islands and the roosters make noise 24 hours a day. It always sounds like a party is going on...or like a band of cannibals is howling about and roasting a German tourist on a spit in the distance. But I digress...

--We catamaraned with our host to a uninhabited island (Maina) off of Aitutaki. Despite rain, we trudged on and were dropped off to spend a few hours on Maina. After we warmed up and unsuccesfully tried to crack open a coconut (our hosts showed us how, we drank the delicious coconut milk -- like in 'Castaway', and also ate the cotton candy like insides of an early blooming coconut. Delicious!) we waded about 1/2 mile through a lagoon to a huge sandbar called "Honeymoon Island" (keep your pants on...it's just the name of the island). We had our best snorkeling experience here. Breathtaking scenery.

--We left at 4:45 am Wed from Rarotonga and took a four hour flight to arrive at 8 am on Thursday in Auckland, NZ (The wicked international date line stole Wednesday...we'll steal it back when we return. Oh yes...we will.) Auckland is a big, beautiful cosmopolitan city. (With 1.1 million people here, 30% of NZ'ers live here) Everyone is mind-bogglingly nice and there are cool cafes, restaurants and shops everywhere.

--We had two beautiful views of this harbor city. 1) We went up in the downtown Sky Tower (328 meters high -- taller than the Eiffel Tower) for a great 360 degree view. 2) Later, we ferried over to
Rangitoto (the newest volcano in the area at 600 years old) and hiked to it's summit for another spectacular view. The lush volcanic landscape and great, black rocks were stunning.

--We live in a camper van now. We nicknamed it 'Puggy' (I'm sure it will gain more names as time goes on) since it looks like a stubby little dog (Pug). Not only are we adjusting to driving on the left hand side of the road, but the gear shift (it's a stick) is done with the left hand (and the turn signal is on the right). It's a two person job for sure. Jen's been navigating and Jim's been working on the shifting. It's like a Three (or Two, in this case) Stooges Film.

Things are cruising along. The relaxing island life is fresh in our minds, but we're ready to tackle the glorious landscape of New Zealand. We're leaving momentarily for Rotorua where there are natural geysers and hot mineral waters...not to mention "Zorbing" (where you roll down a hill in an inflated ball). Sounds good to me!

Thanks again for being such great friends and family. We send big, BIG hugs to you all.

As Jim's grandpa says, "Thanks for scrolling."