So, this week's "Tale" is just a sampling of my life as it stands right now:
1) My experience dog-sitting this weekend.
2) An experience at my desk last week.
3) My Valentines Day gift for my girlfirend.
This domain was an extension of the Legend of Moo. My lover became set that this domain was the most logical and beautiful extension of the Moo concept. (Gift includes domain, stuffed animal, and cuddles)
4) A picture of me decked out for an aquatic-themed Get-M event for kids. The hair is supposed to be sea anenome-like...obviously.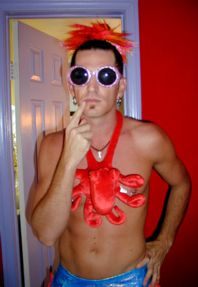 BONUS: some oh-so-topical personal history:
2) An old look at pet ownership