This week's Tale was actually first sent to members on the Prehensile Mailing list. They *also* got the password to some super secret naked photogalleries. Maybe YOU should sign up.

Life is a crazy ride sometimes. And I'm not just talking about plaster-casting your genitals or smuggling gems out of Eastern Europe.

But lately it feels like *every* day is jewel-encrusted and smells of plaster.

Let me tell you about:
THE SXSW CONFERENCE
MC HALCYON
MEETING JEANEAE GARAFFALO
A WEBBY NOMINATION
COCKY FRESH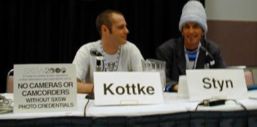 THE SXSW CONFERENCE

I would have a hard time explaining the joy and energy I got from the people at SXSW. It was like a digital version of Paris in it's artistic hey-day. Or a beat-poet party in the 50's…except instead of Ginsberg and Burroughs, I was surrounded by Powazek and Veen…Arthur and Hall, Kottke and Brown, etc. etc. All the artists who are stretching this new medium were there. Well, not all, but so many people that I respect and admire. It was inspiring.

____________

MC HALCYON

On the first night of the conference, I was the MC of the Interactive Award show. I had very little prepared to say. Which is good because my impromptu stuff got much better laughs. From my monologue.

A clip from my monologue is posted in "wrds"



image: derek


Overall, it was a kick in the pants. I definitely stepped outside my comfort zone. And speaking of being *not* in my comfort zone…

____________

MEETING JANEANE GAROFALO

I saw Janeane Garafalo at a bar in Austin. Now, I love Janeane Garafalo. I find her so sexy. Smart and funny are a tough combo to beat.

So after some nervous pacing, I approached her. I said,
"Thank you. Thank you for sharing your art. Your work is a pleasure."
She was very gracious. She said "thank you" and gave me a hug.
"It's not much, but I'd like to share my art…"I said as I handed her my card.
"Oh, I don't have a computer," she said.
Wh…!
My face went slack.
WHAT.
What kind of person (who can afford it) doesn't have a computer?
My face started to twitch. I couldn't speak.
"I've got the card." She smiled.
All I could think of was, "B..But I can't have sexual fantasies about a woman who doesn't have a computer!?"
sigh

____________

A WEBBY NOMINATION

Another encounter during the conference was much more pleasant. I met Tiffany Shlain at the Frog Design party. I recognized her from a Shift magazine cover article that profiled her. She is a web mover-and-shaker who founded the Webby awards. I remember thinking "Damn, she's married" after reading the Shift piece. Smart and web-passionate is another tough-to-beat combination.

I had entered my website months ago so though It would make a perfect ice breaker. I walked up and said, "I'm gonna win a Webby."
I kinda felt like Babe Ruth, pointing to center field, boldly calling my shot. Apparently, Tiffany remembered the exchange as someone sent me an e-mail a few days later with this story:


"This morning I was listening to KFOG around 7:15 and I heard Tiffany from the Webbies come on and chat with Dave Maury & Peter Finch. She said some guy came up to her at SXSW and said 'I'm going to win a Webby!', she says she said 'That's a rather cocky statement.' to which this guy replies 'I'm from cockybastard.com!'"


Luckily that exchange didn't disqualify me, because I did earn a nomination! Yay! I feel very honored among such great sites.

The Webby winners are actually selected by "The Academy" (which includes people like Matt Groening and David Bowie) but you *can* vote for the People's Choice award and see all the nominees here.

____________

COCKY FRESH

I also just finished a redesign/cleanup of CockyBastard.com. The added Webby traffic was making me feel self-conscious. It was as if people started showing up at a party at my house and I didn't get a chance to clean up. So have a look around the new digs if you get a chance. There's also new wrds and pics up. (make sure you choose the html version.)

Craziness, I tell you.
Wild, wonderful, craziness.
Much love,
-Halcyon