----------------www.prehensile.com----------------

I went to the Adult Expo in Vegas for the second year. The Tale from last year was about my insecurities at meeting long time lovers for the first time. This year, I had more fun. I was more relaxed and had a blast. One of my favorite interviews was with Chloe. Chloe is a porn star who won me over with a too-amazing-not-to-be-real climax during an anal sex scene I saw recently. I got a chance to thank her for sharing.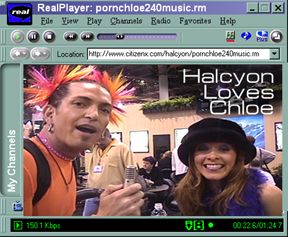 watch the vid (1.5 megs, RealMedia)
After the camera was turned off, we had another funny exchange.
I gave her my card (it has a tasteful pic of me naked on it).
"Mmmmm. You have a nice body. Do you have a big dick?"
"Eh. Average."
"Then its perfect for anal sex!"
Prehensile Tales thinks average is 3 inches
what's new + best of + links, etc + contact + what IS this?


Copyright © 1996-2002 Prehensile Tales.


d e s i g n by h a l c y o n