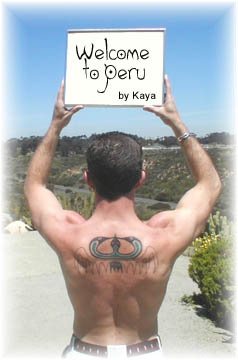 This week's Tale comes to us from Bolivia. My brother, Kaya, is in the middle of a South American backpacking journey.
I have not written in a while so I will send some highlights... While reading these, please select some theme music. The house recommends "Jump" by either Van Halen or The Pointer Sisters... not, I repeat, NOT by House of Pain or Kriss Kross.... well, okay Kriss Kross IF and only IF you are totally krossed out.

Okay, some highlights...uh I can't find the colon key on this Spanish keyboard... I can't begin my list until I find it...oh, here it is:
Before we left Cusco, Peru, I went river rafting. It was fun, with some pretty strong rapids. We rafted in the Urubamba river. Did I mention that all the areas in Peru were named by Jabba the Hut... "Urubamba, Ollayantambo, Han Solo, ha, ha, ha!"

On the bus to Puno, Peru many people came on board to sell items such as bread, jello-ish desserts, etc. One man read a poem and passed out candy for money. It was great... I mean the idea, I don't have a clue to what he said, something about full figured women, I think.

Things in Bolivia are even less expensive than Peru. Our hotel room is about $4.50 a person... and we have four beds, which is good because we can push them all together and sleep longways, which, if you are in the Southern Hemisphere is better for your back, because you are actually sleeping the correct way... did I mention the high altitude here?

I am beginning to really enjoy the differences in culture. For example, when we were close in having enough money at a store, they said to not worry about it. I am even getting more comfortable and better at bargaining... yet no one seems to be willing to lower prices for my "magic finger massage".

We next took a beautiful ride (the clouds just hung in the sky like a backdrop at Olan Mills Studio) to Amantani Island. Here, Brandon and I stayed a night with a family. Wow, what a humbling experience. These people's lives have been almost the same since 2500 BC. Eating for life and not for pleasure, for example, is remarkable.

At night on the island we went to a candlelit dance (no electricity). It was a pretty loose interpretation of the word "dance." I held hands with 4 little girls as we swung our arms vigorously back and forth, and then back and forth again. (?) I asked the band if they knew any Quiet Riot, to get the party going, but they mostly knew "local tunes.

And for those of you with the "Kaya's Bowel's Advent Calendar," after 14 days, I became regular again. Got to love South America.
-kaya

check out Kaya's first email from his travels.